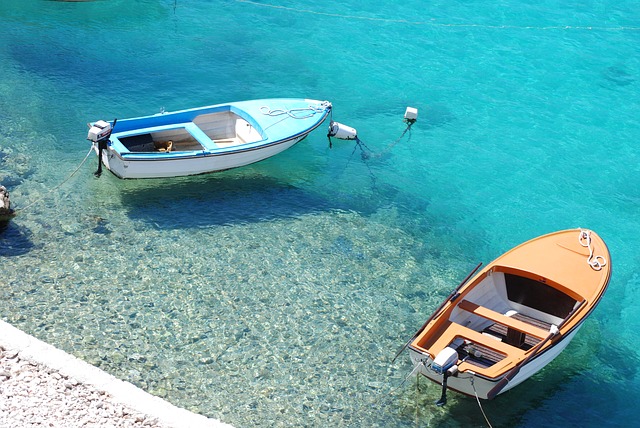 How to get there
Blue Cave is located on the eastern part of Biševo Island on the Adriatic Sea off the coast of Croatia. A ferry must be taken from the city of Split to the island of Vis. Once there, enter the town of Komiža and take an hour long boat ride to the island of Biševo. People get into the cave through the unnatural entrance which was created by blasting the walls with dynamite. Today, more than 100,000 tourists cross this 5 by 8 foot hole every year.
Geological Formation
The Blue Cave Croatia! This cave is a sea cave known for its blue glow effect that occurs between 11 a.m. and 1 p.m. while the water appears silver. This is due to the limestone cave floor reflecting and refracting the sunlight up through the seawater. The natural entrance to the cave resembles a vault on the ceiling of a grotto. A stone bar connects the two walls of the cave beneath the water line. Waves crashing on the surface made the limestone erode, forming a cave that is 78 feet long, 33 feet deep, and 49 feet high.
Rules and Regulations
The cave is open every day from 8 a.m. to 6 p.m. except for Mondays. Prices to enter the Blue Cave are 100 Kuna (approximately $15.00) for adults while 50 Kuna (approximately $7.50) for children during the peak season which runs from July to August. Visits inside the cave are limited to 15 minutes but plan the trip to take all day. There is no limit to the number of boats in the cave so plan on waiting in line. Photos may be taken inside the cave while swimming is prohibited. Blue cave is closed when the southern wind lifts the water surface and forms waves that are too strong for people to cross.